Do you fe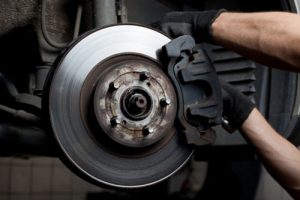 el that your brakes are not what they are used to be? Does your car jerk forward or making a strange noise? It may be the time to get your vehicle's brake and clutch systems inspected from Continental Mordialloc! Being a one-stop solution for automotive needs, we offer dependable brake & clutch repair services to our customers. Our service areas include Mordialloc, Mentone, Parkdale, Moorabbin, Aspendale & surrounding suburbs.
How Brakes & Clutch Works?
Clutches are used to engage or disengage a haul from the prime mover. There are distinct actuation modes for clutches, but they all deliver this basic purpose. Besides their various applications, clutches are often needed where the weight is cycled faster than the motor alone will endure. A clutch readjusts load engagement so high cycle rates can develop without the need to start and stop the motor. This will help in prolonging the duration of motor life. our logbook service includes all the clutch and brake repairs & services to your car at regular services itself. Clutches are an exquisite way to disengage parts of machinery from the motor while it continues to move the other units. The comprehensive use of brakes can be computed in three individual functions such as bringing the vehicle to a stop, control speed and hold in place.
Brakes are usually used together with clutches in common electric motor applications. It is progressively used where load stopping and holding are. A clutch can disengage the load from the motor, but the load will bank to rest for a while depending on speed and inertia. This linked sequence ensures rapid and systematic starting and pausing of the load while allowing the motor run at ideal speed.
Brake Repairs:
We all know how frustrating it can be when a high pitched sound comes from your car. Our certified mechanics will realign your brakes and get you back on the road completely noise free. Before we start working on your vehicle, we will inspect your vehicle thoroughly and show you what needs to be done to ensure your safety on the road.
Clutch Repairs:
Our trained team is ready to help you with all your clutch repair and replacement needs, guaranteeing quality workmanship. We offer sound advice and services pertaining to clutch repair, replacement, flywheel machining and performance clutch upgrades. We offer all types of car service for all brand vehicles in Mordialloc and nearby suburbs.
With years of experience, we have honed our skill to perform brake & clutch repairs on any vehicle type, including cars, trucks, SUV s and much more. Whether you have an imported or domestic vehicle, drop it off at Continental Mordialloc and get back on Mordialloc's road worry-free! Call us on (03) 9579 0007.