Car batt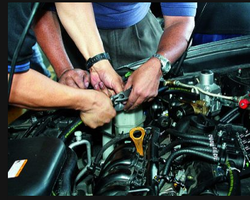 eries are the essential parts of a vehicle's charging and starting systems. The battery sends electricity to the starter and enables the vehicle to start and run. In addition, it also supplies electricity to other electrical components such as internal lights, external lights, radio, etc. Continental Mordialloc is the name you can trust for car services & repairs. Our service areas include Mordialloc, Mentone, Parkdale, Moorabbin, Aspendale & surrounding suburbs.
If you have difficulty starting your engine, notice any difference with the regular lights on your dashboard, see warning lights on or suspect any electrical problem, bring to Continental Mordialloc for any car service. We will get to the bottom of the problem and provide you with the best solution possible.
When you bring your vehicle to us, our certified mechanics will run a full diagnostic check on your vehicle's battery and determine whether it needs to be replaced. If the battery is at fault, we will replace it and get you back on the road as quickly as possible. When it comes to battery replacement, we will use original parts to remain in compliance with the manufacturer's guidelines.
Strong and powerful batteries are essential for the immediate start of an engine. Even if you've got high-quality batteries, it can get degraded over the time and become useless. So, it is extremely important to keep an eye on your car's battery to avoid problems.
Signs of a Dying Car Battery:
While there are no obvious signs of a dead car battery, you can look for some symptoms that could recommend you to have your battery replaced. These signs include
Low battery
Swollen battery case
Check engine light on
Leaks
Difficulty to start the car
Overheating
Odours
Age over 3 years
If you notice any of these symptoms with your car, bring in your vehicle to Continental Mordialloc. We will take you through the problem and provide a quick solution. For appointments, call us at (03) 9590 9669 today!